>>

 Delivered In A Click
You can check availability, reserve and pay, all online in a few quick minutes.
>>

 It Fits Right In
If you have space where you park a car, you've got space that fits a RED-E-BIN.
>>

 On Your Schedule, Not Ours
We want you happy, period. So we make sure to deliver on-time, every time.
>>

 Big Relief, Low Prices
We make pricing simple, and are committed to being a service-first, affordable option.
>>

 Here For You
Got a complicated situation or just a quick question? Click on the yellow chat button to get the answers you need.  You can also call or text us at (302) 236-2713, too!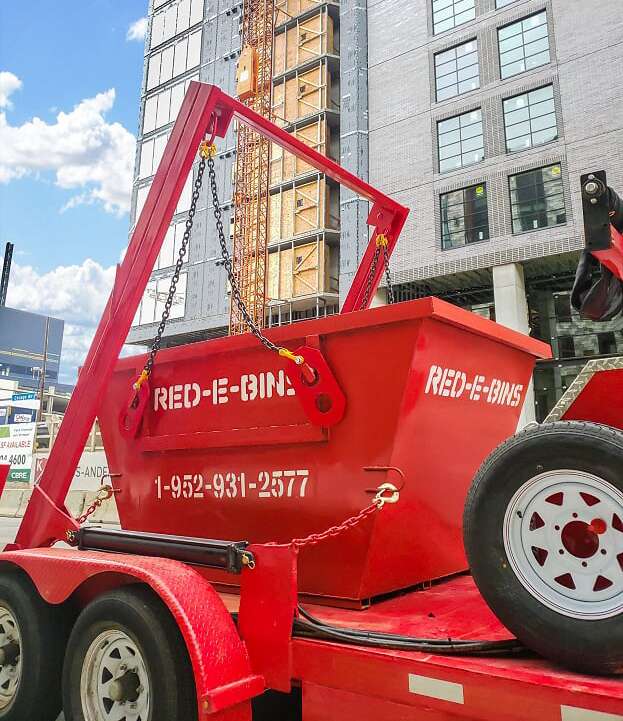 You're just a few clicks from getting a RED-E-BIN delivered directly to you
1. Reserve Your RED-E-BIN Online
Choose your bin size & type, tell us where and when you need it, confirm availability, reserve, and pay online. It's that simple! Check out our different sizes and browse our inventory below! 
Our smaller 5YD/8x4x4 bin fits in a compact sedan parking space and holds about 1–2 pickup truck loads; our larger 10YD/10x5x5 bin fits where you'd park a larger sedan and holds about 3–4 pickup truck loads; our largest 15YD/10x6x6 bin fits where you'd park a larger sedan and holds about 5–6 pickup truck loads.
RED-E-BINs let you toss everything from everyday clutter to construction debris—see our DO's and DONT's here.
We'll come take your full RED-E-BIN out of your life—and we recycle, donate, or responsibly dispose of every item inside.
The right size bin for any project.
RED-E-BINS are designed to take up as little space as possible, while still offering the maximum possible volume for hauling away your debris. Two sizes are available for you to choose from depending on the amount, weight and type of disposal needed.